Kijk goed
Wanneer ik in- en dan weer uitzoom verandert mijn kijk op de dingen. Wat in eerste instantie een geheel is, blijkt bij nadere beschouwing te bestaan uit vele kleine deeltjes. Ik focus op zo'n detail en als ik achteruit ga, dan zie ik dat er een groter patroon is waar het deel van uitmaakt. Hoe ver ik ook achteruit ga, er komt steeds een groter verband te voorschijn. Dat is geruststellend en relativerend. Standpunten zijn dus te kiezen. Er is bewegingsruimte. Alles en iedereen is onderdeel van iets groters.
Een verzameling kleine deeltjes vormt een patroon. Ik denk dat een patroon niet alleen volgens orde en regelmaat is gerangschikt, maar ook onderhevig is aan variatie en onregelmatigheid.
Zou er zoiets bestaan als chaotische rangschikking? Orde is fijn, maar volkomen orde zou nogal doods zijn. Perfectie bestaat waarschijnlijk niet en is zelfs niet wenselijk.
Look out
Zooming in and out changes my point of view. What seems to be a whole, after closer inspection, turns out to consist of many small parts. I can completely focus on such a detail, but when I move backwards I see that it is part of a larger pattern. No matter how far I withdraw, larger contexts keep appearing. Now that is comforting and puts everything into perspective. Viewpoints can be choosen. Opinions are relative. We are all part of something bigger.
Many little parts together form a pattern. I believe that a pattern is not only arranged by matters of order and regularity, but also by chaotic ways. Complete order would be rather deadly. Perfection probably doesn't exit.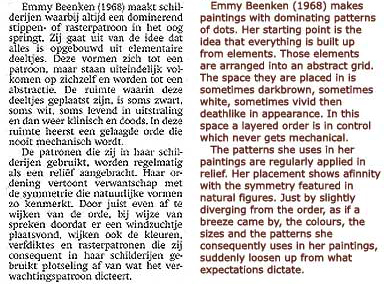 Friesch Dagblad, M. Bouman.